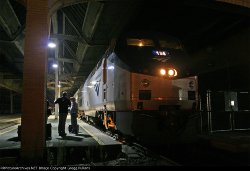 Welcome to the RRPictureArchives.NET contributor site of Gregg Pullano.



Welcome! Benvenuti!

I've been a railfan for my entire life. I took my first photo in 1999, but didn't get serious about photography until 2005. That year, at the end of middle school, I started actively photographing trains around my home area of Lansing, Michigan. Through High School and College, I've managed to travel all around Michigan and a fair portion of the Midwest on my own, visiting many locations and railroads and collecting many photos. I am a very avid passenger train fan and supporter and as of March 7, 2012, I have ridden Amtrak trains through 47 of the 50 states, plus Ontario in Canada. This includes all of Amtrak's Long distance routes. I'm also a passionate steam fan and preservationist, in addition to being a general railfan most of the time. I hope to work in the industry someday, but until then, I'm just a line side college student documenting the scene.

While, as mentioned, I have traveled much of the lower 48 states, most of my photos are from Michigan, particularly Lansing and East Lansing (my hometown) and Grand Rapids, where I am a student at Grand Valley State University.

I hope you enjoy my work. Feel free to comment on any photos, or correct me if you see an error in the information presented.

Other sites to visit:

My Very Best Photos at Railpictures.net!



You may browse my collection of pictures via the menu located on the left hand side of the page. I hope you enjoy the collection and thanks for stopping by!